Client Background
Madeleine has been a yoga and meditation teacher for over 15 years and has developed loyal local following for her classes, events and wellbeing sessions over the years.
Prior to becoming a yoga instructor Madeleine owned a beauty salon, operated a training business and also owned clothing and accessory boutiques in the past.
During the first COVID-19 lockdown in 2020 in person classes were unable to operate so Madeleine focused on a number of key operational projects including bringing classes online via zoom, training as a certified Breath Coach, and completing training to offer a unique type of non invasive, natural facelift massage unique to the area, and renovating a part of her large family home as a small yoga studio and beauty treatment room.
Project Requirements
At the end of the second lockdown in April 2021 Madeleine wanted to relaunch her business with a new name, new branding and new services that encompassed her past business experience, new offerings. She wanted to launch the business as a permanent holistic retreat offering wellbeing activities; small group and 1-1 Yoga, Sound Healing, Meditation, Breath Coaching along with holistic beauty treatments; Sculptural Facelifting Massage, Indian Head Massage and retailing an Organic Skin Care range.
Madeleine's Goal was to rebrand her existing business (Tranquility Yoga & Wellbeing) to Lotus Holistic Retreat and launch the new premises and offerings to her existing audience and gain new followers as well as to begin taking bookings for treatments and wellbeing activities soon after the launch.
The Project
New Logo
During lockdown we worked on the new brand and logo design, creating the name, exploring different logos, icons, fonts and colour combinations until the final brand was decided. We decided on muted pinks and greys for the brand colours and tones because they create a soft welcoming feel, a calm and centred mood in alignment with Madeleine's product and service offering.
Final Logo
Pre Launch
The project began approximately 4 weeks prior to launch and we had weekly meetings to discuss planning, strategy, content, design and progress.
Week 1
Project needs analysis.
In week one we developed the rebrand launch timeline and planned a roadmap for the project.
A key part of the rebrand was to enable Madeleine to develop the skills to begin posting her own content from the second week after launch so we included social media design skill building sessions into our meetings as well as planning and implementation of the rebrand.
I cleaned and merged four existing (GDPR compliant) contact databases for Madeleine to further purge before importing them into our emarketing & sms platforms.
Week 2
We planned the website structure, layout and content with the view to beginning to organise and produce the content for the products, services and pricing for the social media posts.
I created a brief for the Web Developer however, the new website development project itself was postponed until after the launch. In the meantime we used the content to populate the social media platforms and free Google listing and website.
Having your own professional photography and video sets you apart from the competitors.
We had 3 photo video sessions during week 2 and 3 and all photos and videos were edited and provided to Madeline on a memory stick.
Photography and video sessions included:
Location, the rooms, the room details, the house, garden and Madeleine.
A small yoga session with 3 participants indoors and out doors (covid compliant)
A sculptural facelift – full session photography and video
I created and produced standardised animated intro's and outro's for the videos in 16:9, 9:16 and 1:1 ratio for facebook, stories and instagram videos correct ratios.
Week 3
I set up, verified and populated a new Instagram account and connected it to Facebook and the various business platform resources. I created a teaser Grid post 'something exciting is coming soon'
I created a one month social media content calendar to begin on the launch week along with a list of researched and recommended hashtag groups to use e.g local hashtags, yoga, sculptural facelifting and other holistic themes.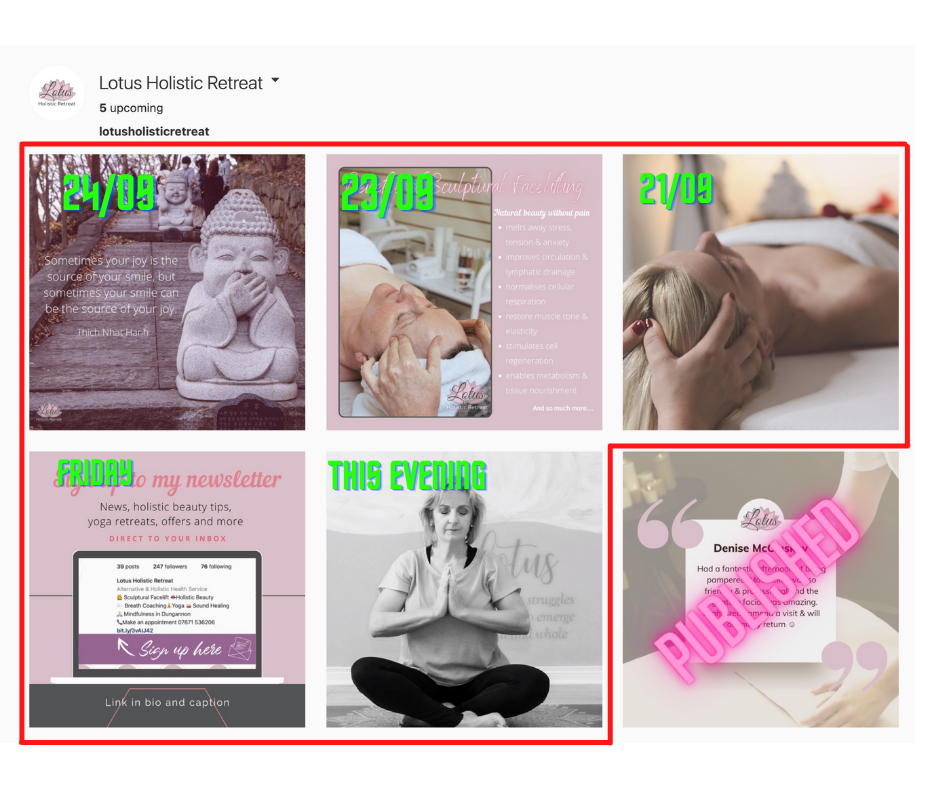 I created 5 teaser posts for Facebook for the week prior to launch which would serve to warm up the existing 590 followers and initiate the Facebook algorithm to maximise the potential organic reach. I scheduled the posts ahead at optimum times according to the facebook page insight data.
I rebranded the existing Tranquility Yoga Mailchimp account and created a new branded template for Lotus Holistic Retreat. I imported the merged and cleaned email database.
I set up the SMS marketing platform and imported the mobile phone list of 700 people.
I purchased and set up hosting on the new domain lotusholisticretreat.com, verified it with the social media platforms, verified it on mail chimp and set up a forwarder to go to the fire google my business website while the existing web development project gets underway.
Week 4
Week 4 was teaser week. I posted each day for 5 days on facebook / 3 posts on instagram 'something wonderful is coming soon.
I very much hinted at the branding and new offerings but without actually truly revealing anything. This was done to create a buzz, some mystery and a sense of anticipation for a 'reveal'.
The first teaser post (which was the first meaningful post in 13 months on the page) was designed to engage the existing loyal followers. With previous posts reaching on average 2-400 people, the first teaser post reached 2.4k, had over 160 engagements and 20 shares.
I designed and sent the first email marketing campaign to engage subscribers and encourage them to watch for changes on Facebook and to follow the new Instagram page.
I wrote a press release and sent it to all local publications and yoga publications.
The first 5 posts were scheduled and delivered each day Monday to Friday. and then on the following Monday.
Week 5 – LAUNCH WEEK
Facebook:
The launch was planned for the 1st June (Tuesday) and early in the morning I completely rebranded the Facebook Page adding the new logo, changing the name, updating the about, settings and other information.
On Launch day I did four facebook posts
A Launch Day post from Madeleine sharing what it was all about at 12.00
A Giveaway post for a signature sculptural facelift session valued at £120 at 1:30pm
A call to follow the new instagram account at 4pm
A Thank you for reaching 700 followers that day at 9pm
I replied to all comment on the launch post ( over 70 comments) and the post had almost 40 shares. The organic reach on the launch post was 5.2k
The Giveaway post reached almost 10k and gained 78 shares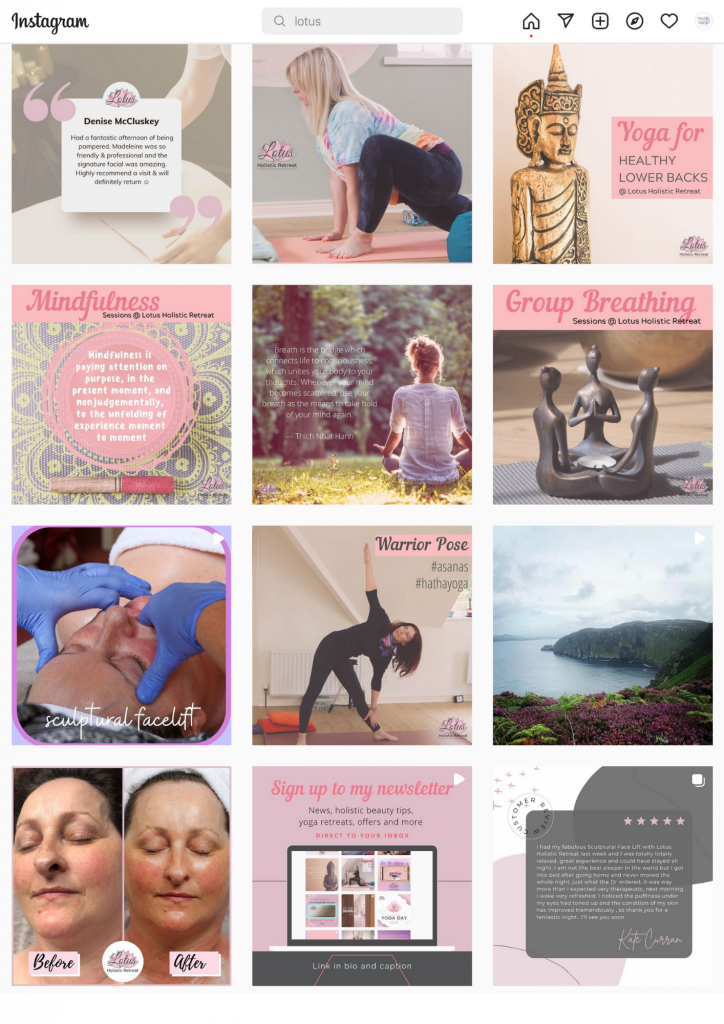 The following 4 days posts included
A Thank you for your support / yin yoga post
an 800 followers post
A sculptural facelift video
A yoga Breathing carousel post
The rebrand launch set the scene for new products, offers, classes and retreats and also gave Madeleine an effective vehicle to continue to grow her business online.
After a number of months and a few 1-1 sessions with me on Canva and Social Media Planning, Madeleine was able to take over the social media posting herself and continue to grow her newly branded business.
If your business needs a social media relaunch or you'd like to learn how to use Canva to improve your social game then you can book a 1-1 with me here safron@pranadigital.co.uk